Order of Canada
Order of Canada
Celebrating our Members Honoured with the Order of Canada
A famous Jewish proverb says, "I ask not for a lighter burden, but for broader shoulders." Our Temple Emanu-El community includes some very broad shoulders, indeed. We are proud to have members who have been recognized with the Order of Canada for a lifetime of outstanding achievement, dedication to the community and service to the nation.

In alphabetical order...
Jacques Bensimon, C.M. (z'l)
Jacques Bensimon was a public film and television director, producer and executive in Canada. Born in Agadir, Morocco, Bensimon and his family immigrated to Montreal in 1958. He contributed to the production of over 30 NFB films including the direction of 20 ans après (1977), an exploration of the challenges faced by Francophone Sephardic Jews as they began to integrate into Quebec society during the 20 years following their immigration.
Talented and bilingual, Bensimon became managing director of TFO, the French-language network of TV Ontario when it launched in 1987. During his mandate, he helped to establish partnerships and co-production agreements with major television distributors around the world, like BBC, Arte and France Televisions. The exportation of much of Canada's French-language media programming remains indebted to the work and institutional relationships fostered by Bensimon.
Rabbi Arthur N. Bielfeld, C.M.
Rabbi Arthur Bielfeld retired in June 2001 after serving as the spiritual leader of Temple Emanu-El for 33 years. During his long history with the Congregation, Rabbi Bielfeld was an inspiration and the catalyst for innovative programming and Social Action endeavours. A native of Worcester, Massachusetts, Rabbi Bielfeld graduated Yale University with a Bachelor of Arts in History. He was ordained from Hebrew Union College in 1964. Rabbi Bielfeld is the founding Chair and present Chairman of the Leo Baeck Day School, the first community-sponsored Reform Jewish Day School in North America, Past Chairman of the Board of the Energy Probe Research Foundation - Probe International, Founding Chair of MAZON Canada - a Jewish response to Hunger, a Founding Member of KOLEL - The Adult Centre for Liberal Jewish Learning, Founding Chair of The Campaign Against Child Poverty - a national coalition as well as a Past Board Member of the Central Conference of American Rabbis, Talbert House (Cincinnati, Ohio), North York Committee on Community, Race & Ethnic Relations, United Way of Greater Toronto and Casey House Hospice and Casey House Foundation. On July 1, 2012 Rabbi Bielfeld was awarded the Order of Canada for his contributions to Toronto's Jewish community and his social justice work.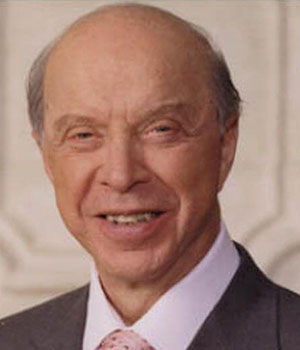 Leslie Dan, C.M.
Founder and president of a leading pharmaceutical manufacturing and research company, Leslie Dan is one of Canada's entrepreneurial success stories whose philanthropy extends far beyond our borders. Through the Canadian Medicine Aid Programme, which he founded, he has inspired others by donating millions of dollars of medicine and other aid to alleviate crisis situations in the streets of our large cities and around the world. Leslie has credited his perspective on helping others as coming from the teachings of Torah and Talmud. Some writings that have inspired him include the Bava Bathra talmudic tractate, including: "Charity is equal in importance to all other commandments combined." And, "Who gives charity in secret is greater than Moses."
Barney Danson, C.C. (z'l)
A celebrated veteran of the Second World War and federal cabinet minister, Barney Danson led a life of distinguished service to Canada. An advocate of veterans' issues, he spearheaded the establishment of the new Canadian War Museum. With its dramatic architecture and exhibits designed to help new generations understand the significance of our nation's military history, it stands as a lasting testament to the contribution made to world freedom by Canada. He also applied his energy to helping visually impaired persons through his active involvement with the Canadian National Institute for the Blind and the Sir Arthur Pearson Association of War Blind Scholarship Fund.
Barbara Frum, O.C. (z'l)
Barbara Frum was a writer, broadcaster, interviewer and investigative journalist, acclaimed for her public affairs programmes on CBC radio and television. Barbara was well known as host of the CBC Radio program, As it Happens. Her skills as a tough, incisive and well-informed interviewer quickly made the program one of CBC Radio's most popular and enduring programs (it still airs today, in virtually the same format), and she continued to host until 1981.
In 1981 CBC television created the Journal, a newsmagazine series that would follow the National each night at 10:22 p.m, Barbara and Mary Lou Finlay were hired as the show's hosts. Frum became the sole host of the program and interviewed many notable people, including British PM Margaret Thatcher and Nelson Mandela.
Throughout her career Barbara won many prestigious awards including, National Press Club of Canada Award for Outstanding Contribution to Canadian Journalism, and Woman of the Year in the literature arts and education category, the Order of Canada, numerous Gemini Awards and a library is named in her honour.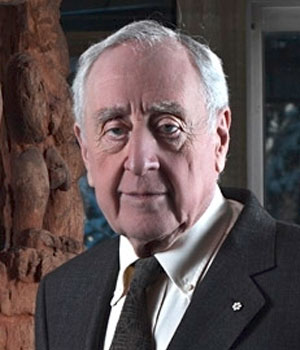 Murray Frum, C.M. (z'l)
Murray Frum was a Canadian real estate developer and philanthropist. He contributed greatly to the cultural life and landscape of his community. Chairman of the Frum Development Group, he was a director of the Toronto Arts Council Foundation and the Toronto International Film Festival. A governor of the Mount Sinai Hospital, he served on numerous boards, including those of Saturday Night Magazine and the Stratford Shakespearean Festival. As Chairman of the Ontario Arts Council Foundation, he generously donated pieces of his primitive art collection to the Art Gallery of Ontario where he was a trustee.
Martin Goldfarb, O.C.
Martin Goldfarb is the founder of Almada Inc., a private equity company and is the Principal at Goldfarb Intelligence Marketing. He developed Goldfarb Consultants as a world leader in the field of market research with 26 offices in Europe and North and South America. Martin has held senior positions in several public and private companies. He is a director of the Toronto General & Western Hospital Foundation and a member of The Peter Munk Centre Innovation Committee. Martin co-authored Marching to a Different Drummer in 1988 and Affinity: Beyond Branding in 2010. He is an inaugural recipient of the University College, University of Toronto, Distinguished Alumni Award and received an Honorary Doctorate of Laws from York University. Mr. Goldfarb was designated an Officer of the Order of Canada in recognition of his pioneering work in the market research industry and philanthropic activities.

Milton Harris, O.C. (z'l)
Milton Harris was an American-born Canadian businessman and founder of Harris Steel Group. Born in Detroit, Michigan to Sam and Jenny Harris, he moved to London, Ontario when he was a few months old. Harris attended St. George's School and Central Collegiate Institute before receiving a Bachelor of Commerce degree from the University of Toronto in 1949. After his father suffered a heart attack, Harris took over the day-to-day operation of his family's metals trading business established by his great-grandfather in 1886. He founded Harris Steel Group in 1954 in London, Ontario.
Harris was president of the Canadian Jewish Congress from 1983-86. In 1986, he was made an Officer of the Order of Canada in recognition for having "devoted his energies to community service at various levels, endeavouring to improve the quality of life for all Canadians".
Murray Koffler, O.C. (z'l)
Murray Bernard Koffler was a Canadian pharmacist, businessman, and philanthropist. He was best known for founding the Canadian pharmacy chain Shoppers Drug Mart, establishing the Koffler Centre of the Arts, co-founding the Toronto Outdoor Art Fair, and as an initial investor and partner in Four Seasons Hotels.
The Marvelle Koffler Breast Centre and the Murray Koffler Urologic Wellness Centre were both established through their generous philanthropy to the Mount Sinai Hospital. In 1969, Koffler rallied the pharmaceutical community, among others, to launch The Council on Drug Abuse (CODA), a charitable non-profit association with the mandate to prevent substance abuse.
In 1971, Koffler and two other Jewish community leaders, Albert Latner and Ray Wolfe, purchased the Canadian Jewish News. He was a major supporter of the Weizmann Institute of Science in Israel. In 1979, Koffler opened the first Super-Pharm pharmacy, in Herzliya, Israel. Super-Pharm is still owned by the Koffler family, and there are currently 202 locations in Israel.
Dr. Barbara Landau, C.M.
A lawyer, psychologist and author, Dr. Barbara Landau was named a Member of the Order of Canada for her contributions to dispute resolution and family law reform, and for her advocacy of interfaith respect and cooperation. Barbara is lauded for her leadership in family mediation, justice and dispute resolution in Canada.
In 1999, Barbara participated in a "citizen diplomacy" mission to Israel, the West Bank and Gaza to compassionately listen to Israelis and Palestinians as a step toward peace and reconciliation. As the co-chair of the Canadian Association of Jews and Muslims, she co-leads Dialogue Groups to build understanding and respect between Jews, Muslims and Palestinians living in Toronto.
As Chair of the Shared Society Committee of JSpaceCanada (an organization of progressive, pro-Israel, pro-Palestinian and pro-Peace members), bridging the divide between Jews and Palestinians has become an important focus of her community activism.
Barbara Landau is a woman who passionately loves Canada, Israel, and her Jewish faith. Her unbounded energy and enthusiasm drive her projects.
David Lepofsky, C.M.
David Lepofsky is a Canadian lawyer and disability advocate. He holds an LLB from the Osgoode Hall Law School (1979) and an LLM from the Harvard Law School. David is a visiting professor of Disability Rights and Legal Education (part-time) at the Osgoode Hall Law School and a past adjunct member of the University of Toronto Faculty of Law. He holds volunteer leadership roles in the disability community. He is chair of the Accessibility for Ontarians with Disabilities Act Alliance. He is a member and past chair of the Toronto District School Board's Special Education Advisory Committee. He is also a member of the Kindergarten-Grade 12 Education Standards Development Committee appointed by the Ontario Government to recommend reforms to tear down barriers impeding students with disabilities.
David was named one of Canada's 25 most influential lawyers by Canadian Lawyer Magazine. However, he was left wondering: "If I am so influential, why doesn't anyone listen to me?"
David is the author of one law book, and the author or co-author of 30 law journal articles or book chapters on topics including constitutional law, criminal law, administrative law, human rights, and the rights of persons with disabilities. He lectures on these topics and others around the world.
Pekka Sinervo, C.M.
Pekka Sinervo is a physicist who was involved in the discovery of the top quark and the Higgs boson, the two most-recently discovered elementary particles. A distinguished academic, he is a former president of Temple Emanu-El and the Reform Jewish Community of Canada, and is a member of the URJ Board of Trustees.
Carol Tator, O.C.
Carol Tator is a leader in the field of anti-racism and equity. Former course director at York University, she has co-authored some of the most influential texts on the topics of racism and discrimination in Canada. In addition to her research, she has been an activist on the front lines of the anti-racism and equity movement for decades. An expert consultant, she developed and implemented policies to dismantle systemic racism in Canadian institutions, including the media, the police, the education system and the arts.
Dr. Charles Tator, O.C.
Dr. Charles Tator trained in Neurosurgery and Neuropathology and was Chair of Neurosurgery, at the University of Toronto. He headed Neurosurgery at the Toronto Western Hospital, and was a founder of ThinkFirst, Canada, a national brain and spinal cord injury prevention foundation, and Parachute Canada, a national injury prevention agency. He held two research chairs at the University of Toronto, and is an Officer of the Order of Canada, and an inductee of the Canadian Medical Hall of Fame and the Canadian Sports Hall of Fame. Currently, he is a Scientist in the Krembil Brain Institute and Director of the Canadian Concussion Centre at Toronto Western Hospital.
Thu, March 23 2023
1 Nisan 5783
Thu, March 23 2023 1 Nisan 5783